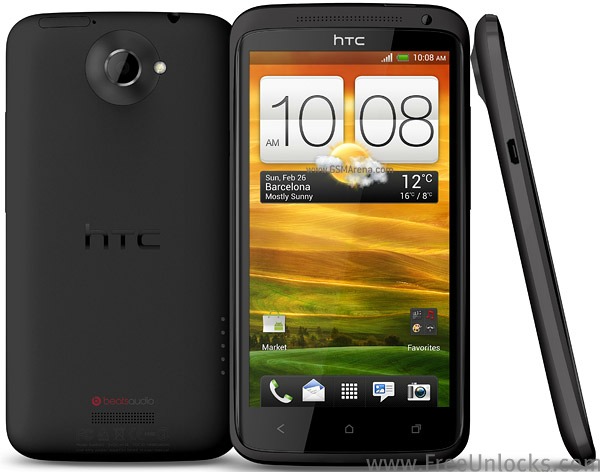 The super phone is now available for unlocking! Experience the awesomeness of your phone being unlocked and take advantage to use any SIM card or Carrier worldwide. The HTC One X is an ultra powered packed smartphone is equipped with a Tegra 3 Quadcore+ 1 processor gives you a lightning-fast web browsing, remarkable picture quality and a realistic gaming effects. The 4.7 inch 1280 x 720 Ultra LCD Display gives you a kick of bringing that reality like gaming and an 8-Megapixel Camera capture every moment as it happens. The HTC One X is powered by Android 4.0 Ice cream Sandwich with HTC Sense 4.0 on top, with 1 GB RAM and 32 GB of internal storage.
Why unlock your HTC One X?
Almost all of the mobile phones are locked to a service provider limiting you to use a different SIM cards. This is because they want to keep you alone and you have to use their services even though sometimes is a bit expensive.
FreeUnlocks offers a mobile phone life changing experience; it can unlock your phone from any service providers worldwide so that you will have the luxury of using your phone with the service provider services that you want.
Also, when you unlock your HTC One X you will not need to worry about those international roaming fees because you can choose a local SIM card and use it if you're travelling abroad. It can increase vastly the reselling value of your phone.
Will it void my warranty?
Unlocking your mobile phone remotely will not void the warranty of your HTC One X because we use the same technique or tools that the manufacturers used in order to unlock the phone. When we say remotely, meaning we unlock phones using unlock code without cables and software.
Why unlock your HTC One X?
If you are a traveller, you can just buy local SIM cards in order to save a lot amount of money from International Roaming Fees.
Free from any restrictions to any service provider worldwide.
Reselling value of the phone would increase dramatically.
The phone is permanently unlocked even after updates.
No Software and Cables.
No Technical Experience needed Easy and effortless instruction.
It is LEGAL!
What will I do to unlock it?
This is where our website comes to play, FreeUnlocks gives you a convenient way to choose an option on how to get your unlock code. When you decide to unlock your phone, you won't need an unlocking experience since we do include a reference for every emailed unlock code that we sent out.
What to do is just go to this webpage link and after doing you will be given 2 options. A "Get it free" and "Buy now" options.

Option 1 is "Get It Free" meaning that before you can get your unlock code you have the option to complete a free trial offer from one of TrialPay's Partners. TrialPay is the one who will be paying for the unlock code you ordered, you check out the offers safely and without obligations!
Option 2 is to "Buy Now" meaning if you're in a hurry to unlock your phone and payment is not a problem then you can click "Buy Now" and it will direct you to TrialPay's secure check out. You can purchase our unlock code in PayPal or Credit Card transaction using TrialPay secure checkout.
After checking out for either both options, an order # and activation number will be given for you to use it to process your unlock code to our manual Unlock on Oder webpage. Once you have successfully processed the unlock code, there will be an email from us with your unlock code and a reference on how to unlock it. It's that easy!
How to unlock your HTC One X using FreeUnlocks unlock code.
1 – Switch ON mobile with a not Allowed SIM Card,
2 – If phone ask, enter the PIN code of your SIM Card
3 – Now phone will ask you to enter the unlocking code !
You phone is now unlocked and will automatically reboot!
Unlock you phone for free at http://www.freeunlocks.com/chooseyourphone/freehtcgoogleg1unlocking/
↓ Can we unlock your phone? Start here! ↓