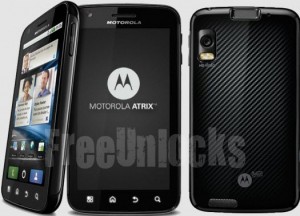 The Atrix 4G is one of the most successful smart phone of Motorola, it is also known as MB860. In the era of smart phones, many believe in the power and the fastness of the Motorola Atrix 4G. This super fast smart phone is equipped with dual-core processing power and the revolutionary WebTop application. With WebTop and a compatible Motorola docking station, sold separately, you can surf the internet with a full Firefox browser, create and edit docs or access multimedia on a large screen almost anywhere. Motorola Atrix 4G has a very flashy way to ensure security, it has a fingerprint recognition technology means only you can access you phone that enhances security and beats password or P.I.N. locks.
What is Motorola Atrix 4G (MB860) unlocking?
Most of the Motorola Atrix 4G is locked to a carrier or service provider that is preventing you to use a different SIM card. Unlocking your Motorola Atrix 4G will allow you to use any network/service provider worldwide.
Reasons why you should unlock your Motorola Atrix 4G
You will have the freedom to choose a network provider that you want.
Unlocking you phone will increase vastly its reselling value.
You can save yourself from those overspent international roaming fees by buying local SIM card.
The phone is permanently unlocked after updates
100% legal and it will not void you warranty.
We unlock remotely, no cables—no software—no technical experience required.
How to get an unlock code for my Motorola Atrix 4G.
Click here and it will direct you to our webpage on how to unlock your Motorola Atrix 4G using our Motorola Database 2 unlock tool.
On our website, you will be given 2 choices, a "Get It Free" and a "Buy Now" option.

"Get It Free" is a process to where you will have the option to complete a free trial offer from one of TrialPay Partners before you receive your unlock code. TrialPay is a sponsor that is paying your unlock code from us. "Buy Now" is a process in which to purchase the unlock code directly through TrialPay's secure check out using PayPal or Credit Card.
After checking out using TrialPay secure check out system, you will be receiving an email containing your order # and an activation number for you to process your unlock code manually. After processing your unlock code using Unlock On Order system, you will be receiving another email with the unlock code and a reference on how to unlock it.
How to unlock Motorola Atrix 4G using an unlock code.
Switch on your phone with a non accepted SIM card.
Phone will show "Enter Special Code"
Enter the unlock code that we have sent you.
Note that if you entered too many wrong codes, one of these messages listed below will appear. Let your phone turned ON with theses errors messages and after 40 min to 2 hours maximum the message "Enter Code Special" will appear again!
"Contact service provider"
"Tamper alter"
"Wait before enter special code"
"Contact service"
↓ Can we unlock your phone? Start here! ↓