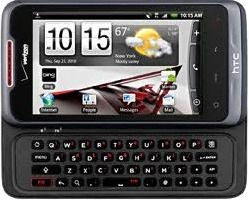 HTC Merge is an Android Smartphone sports a slide-out text keyboard, 3G Roaming, and a 5 mega pixel with an HD video for Hi Definition quality and smooth videos.
This device is a Wi-Fi hot spot itself as it can share up to eight Wi-Fi enabled devices. It has an 800 MHz Processor and an Android 2.2 operating system plus an HTC Sense to maximize the pleasure in using the phone.
Why unlock your HTC Merge at FreeUnlocks?
Travelling a lot lately? And you need to bring your mobile phone with you but you're scared of all those international roaming fees? Fear not because Freeunlocks will come to your rescue!
What to do if I decide to unlock my phone?
You won't have to be a techie in order to unlock your phone, you just have to know and locate your IMEI #– to locate your IMEI #, just dial *#06# or by just looking under the battery.
Unlock your HTC Merge for free using a remote unlock code, remote meaning NO SOFTWARES and NO CABLES, all you have to do is follow the reference on how to unlock it together with the unlock code that we have sent you.
You won't need a technician in order to unlock your HTC Merge phone, you can unlock it yourself! Click here and it will direct you to the webpage of our website on how to unlock you HTC phone.
On our HTC webpage, you will be given 2 choices, a "Get It Free" or a "Buy Now" option.
If you choose "Get It Free" this is a process to where you will have the option to complete a free trial offer from one of TrialPay Partners before you receive your unlock code. TrialPay is a sponsor that is paying your unlock code from us. If you choose the "Buy Now" option, this is a process in which to purchase the unlock code directly through TrialPay's secure check out using PayPal or Credit Card.
After checking out using TrialPay secure check out system, you will be receiving an email containing your order # and an activation number for you to process your unlock code manually. After processing your unlock code using Unlock on Order system, you will be receiving another email with the unlock code and a reference on how to unlock it.
How to unlock your HTC Merge using FreeUnlocks unlock code
Turn the power on from your HTC Merge with the NON ACCEPTED SIM card.
If asked, enter the P.I.N. code of your SIM card.
Enter the 8 digit unlock code when prompted!
Your HTC Merge is now unlocked, and may automatically reboot!
↓ Can we unlock your phone? Start here! ↓