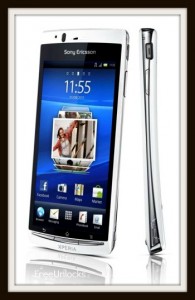 The Sony Experian Arc S is driven by 1.4 GHz Qualcomm Snapdragon MSM8255. It is very fast and it delivers up to 25% faster entertainment than Sony Xperia Arc. Powered by Android, this smartphone will help you find the nearest restaurants or the most hippest clubs around. Shoot crystal clear images with its 8.1 MP with autofocus and 3D Sweep Panorama function.
Unlocking Sony Ercisson Xperia Arc S
Unlock your Sony Xperia Arc S for free using a remote unlocking code, meaning NO Cable and NO Software, all you have to do is follow the reference on how to unlock it together with our unlock code.
You won't need a technician's help in order to unlock your Sony Xperia Arc S, you can unlock it yourself!
Our unlocking method is absolutely safe and secure. The Phone is not subjected to any modification of software—meaning if you unlocked your Sony Xperia Arc S with our unlock code, it will remain unlocked after any software updates. Also, we are using the same techniques as manufacturers do when unlocking a mobile phone so it is very safe.
Unlock it for FREE.
FreeUnlocks specializes in unlocking a mobile phone and have unlocked 10,000 mobile phones up to date. FreeUnlocks gives out free unlock code is that because TrialPay is sponsoring your unlock code after completing a trail offer from one of TrialPay's Advertising Partners. For further information about TrialPay, please click here
Unlocking your Sony Xperia Arc S is available at FreeUnlocks!
Click the link above and it will direct you to our website where you will get your unlock code. After clicking the link provided, you will given choices how to proceed, a Get It Free and Buy Now Option.
"Get It Free" is a process to where you will have the option to complete a free trial offer from one of TrialPay Partners before you receive your unlock code. TrialPay is a sponsor that is paying your unlock code from us.
"Buy Now" is a process in which to purchase the unlock code directly through TrialPay's secure check out using PayPal or Credit Card.
After checking out using TrialPay secure check out system or after offer completion, you will be receiving an email containing your order # and an activation code where you will be processing your unlock code to our Automatic IMEI Processing System.
(The turnaround time for the unlock code is 5-10 days after processing it)
How to enter the unlock code to your Sony Ericsson Xperia Arc S
1. Put in a SIM card from a non accepted network
2. Turn on the phone
3. It will then request for an unlock code
4. Press the unlock code box with your finger and then the number pad will appear at the bottom of screen
5. Input the unlock code
6. Press "UNLOCK" button which is below the unlock code box on screen
(If you have ordered from us, be sure to read the whole message for our current promotion).
↓ Can we unlock your phone? Start here! ↓