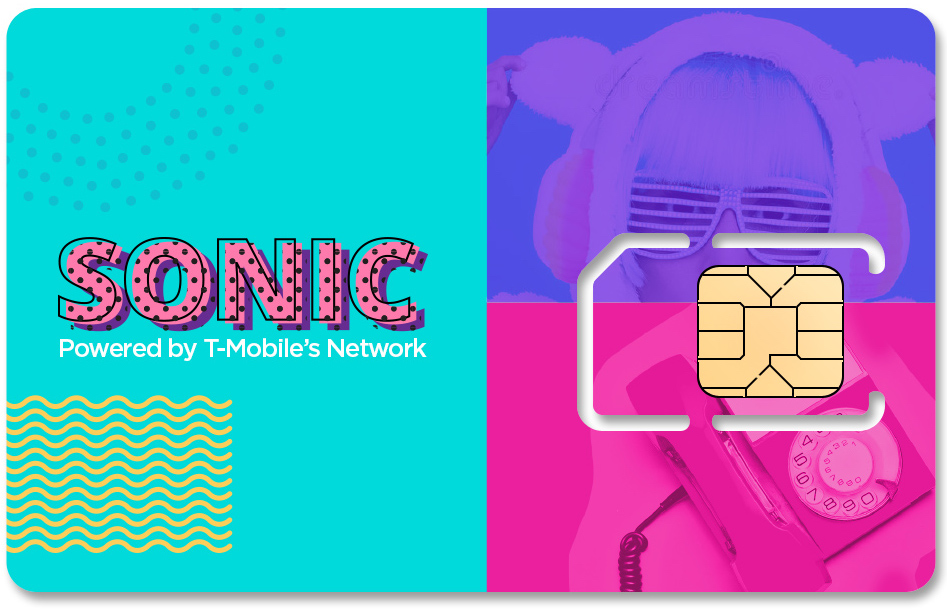 Do you want BIG 4G internet speeds, and enjoy the convenience of global roaming with unlimited texts and enough VOIP calls to suit?
Are you looking for a bargain on your home broadband as well?
We've got good news: Check out our 30-day SUB SONIC plan designed to give value-seeking smartphone users the best possible experience at the best price.
With SONIC, you will have complete freedom to surf, stream, share and socialize at your whim, with 2GB internet on T-Mobile's 4G network.
Just take a look at these features:
THE BEST PRICE. PERIOD.
We'll just give it to you straight: If you're not with SONIC, you're probably paying too much! Our plan, powered by T-Mobile's 4G LTE network, has all the features of T-Mobile direct, but you'll find it's a lot cheaper. Compare and see!
EVERYTHING YOU NEED
SONIC'S plan makes sure you're completely up-to-date with the best and most popular data plan features. We offer 2GB data, standard national calls, unlimited standard texts and MMS. That's a whole lot of no limits! Check out the Hyper plan below for Unlimited Data with Global Roaming & Tethering too!
FASTER-THAN-FAST SPEEDS
When we assure you SONIC mobile is fast, we stand by that statement—because all you'll have to do is try it out to see what we mean. To take advantage of our blazing 4G, you'll just need a 4G enabled handset and access to a 4G coverage area. (Check coverage in your area here.)
NO HIDDEN FEES
We promise that you will never get a shock with your bill. Our month-to-month prepaid service doesn't require a contract, and never includes sneaky additional charges. Just pay a one-time charge of $15 for a SIM card activation, and you'll be on your way to a simplified, easy-to-understand bill from that point on.
There are no start-up fees, no unlocking fees (we're owned by an unlocking company after all), no termination penalties—you'll never be surprised again.
QUICK SETUP
Switching to and setting up your new plan is a breeze, and requires just a few simple steps. Want to keep your existing number? Not a problem. Don't want a new device? Use the one you have! Our prepaid plan even offers an auto-renewal feature to make sure you never lapse in service.
STAY CONNECTED ACROSS THE GLOBE
Staying in touch with your international family, friends, and colleagues is easy, too!. With plenty of lightning-fast 4G data at your fingertips, you'll be able to communicate and share files, videos, and hi-res photos with anyone, no matter how far.
Additionally, this Super SONIC plan offers international roaming, and we offer convenient U.S.-based support.
Find that you're impressing your social network with your super-fast, super convenient plan? Refer friends to us, and we'll reward you with free data! We'll be in contact with instructions on how to claim this deal after subscribing!
Ready to switch to SONIC? We're owned by a trusted 10-year-old company which has more than 140,000 customers and 4000 positive ReviewCenter reviews. We encourage you to explore our advantages and learn more. Come join our network today!